Meet Our Team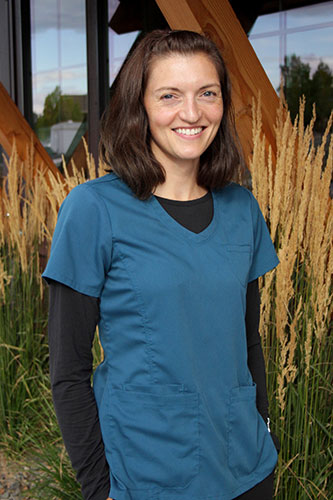 Amber
Hygienist
Originally from Washington state, Amber moved to Montana in 2011 after meeting her husband. Working as a hygienist since 2015, she joined the Summit dental team when the new office opened. Doc Samson likes to say "She came with the office!" Amber is an avid runner and enjoys sharing her love of the outdoors with her son and canine companion.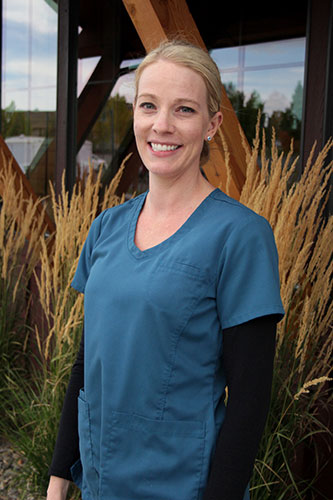 Erica
Hygienist
A Montana native, Erica was raised in Lewistown and graduated from Fergus High School. She received her Dental Hygiene degree from MSU-Great Falls in 2006. Following graduation Erica moved to Helena where she met her husband, a Bozeman native. The couple returned to
Bozeman in 2009 to enjoy the outdoor activities and be closer to family. Since joining Summit Dental in 2013, Erica and Nick have added two boys their family one coming the day we moved into our new office. The couple enjoy hiking, traveling, and sharing their love for the Bozeman community with their boys.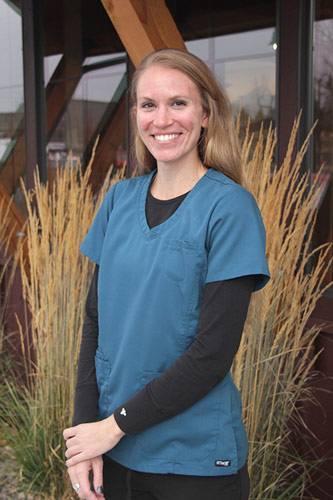 Rochell
Hygienist
Rochell, another Montana native, grew up in Lolo and graduated from Big Sky High School. She moved to Bozeman in 2008 to attend MSU where she obtained her Bachelor's degree in Environmental Studies. She joined Summit Dental as a dental assistant in the spring of 2013. Soon after she left us briefly to attend the MSU-Great Falls Dental Hygiene program. Upon graduating she came back to Bozeman and rejoined our team in 2017. Rochell is an avid runner and hiker who finds herself returning to the mountains of southwest Montana with her pup Cora where she feels the most at home.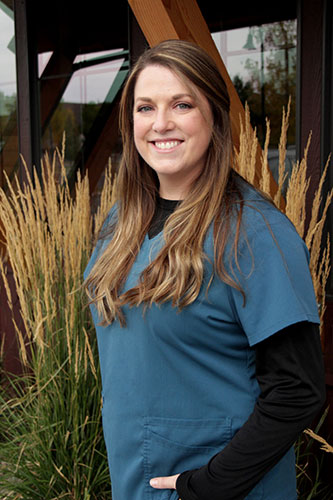 chelsea
Dental Assistant
Chelsea has been with Summit Dental since the beginning. She is a second generation Montanan and was raised in Frenchtown, where she graduated in 2008. Following high school she attended the University of Montana, Missoula, for two years before transferring to MSU-Great Falls where she obtained her degree in Dental Assisting. Outside the office Chelsea can be found spending time with friends and family, hunting, fishing, camping, attending rodeos, or riding horses.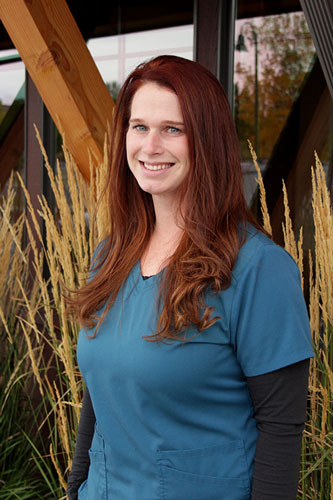 Randie
Dental Assistant
Randie was born and raised on the Montana High-Line in the small town of Zurich. Upon graduating high school in 2003, she left her family's cattle ranch to attend Eastern Wyoming College. She returned home a year later and worked at a local senior care facility before coming to Bozeman to stay. After holding a variety of jobs, she found dental assisting and decided she loved the dental profession. She comes to us with 13 year of dental assisting experience in Bozeman offices and the work ethic of a rancher. Randie enjoys ice fishing, cross country skiing, and dirt bike riding in her free time.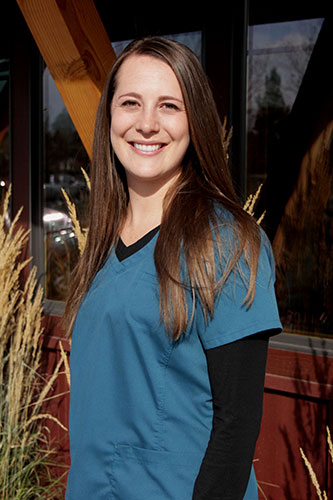 Erin
Dental Assistant
Born and raised in Bozeman, Erin has been with Summit Dental since 2017. She graduated high school in 2013 and entered the Bozeman workforce. After trying a few positions around town, we were lucky to have her referred to our office as a receptionist. She has since decided she prefers assisting and we are impressed with her ability to relate to patients and keep the back running smoothly. She lives outside of town with her husband and enjoys hunting, fishing, camping, and going concerts where she supports local artists.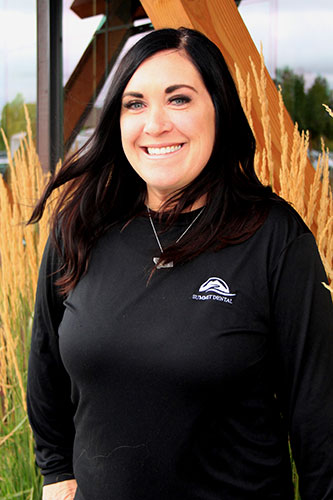 Carly
Scheduling/Treatment Coordinator
Another one of our Bozeman natives, Carly graduated Bozeman High School in 2001. She moved to Chico, CA for college where she received her degree as a Registered Dental Assistant in 2004. She worked as an assistant in Chico until she returned to Bozeman in 2011 to be closer to family. She joined Summit Dental as a dental assistant in 2018 after the completion of our new building. You will find Carly at the front desk these days instead of the back keeping our days running efficiently. She enjoys spending time with her boyfriend and her fur kids Bentley and Madison, traveling, skiing, and working at her side business placing and maintaining eyelash extensions at a local salon in the evening.
Monica
Office Administrator

Monica was born and raised in the Gallatin Valley. She graduated from Three Forks High School and obtained her Elementary Education degree from MSU – Bozeman. Before helping Dr.Samson start Summit Dental, she taught Title I/Special Education and tutored in the suburbs of Minneapolis and in Chinook, MT. When not in the office, she enjoys spending time with family and friends, supporting her kids in 4H and other extracurricular activities, reading, working in the yard, and fly fishing when possible.